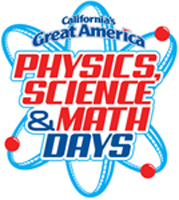 Contests & Interactive Activities
The contest lineup and the rules are final for 2017
California's Great America will sponsor a number of Contests and Interactive Activities in conjunction with Physics, Science and Math Days 2017.

For the Interactive Booths, a sample check sheet has been provided in three formats so teachers can use it as is or customize to meet their needs. The intent of the Interactive Activities is to provide an educational activity that accompanies the usual ride-driven worksheets that students complete while at the park. There is no cost to any of these although there is a time window during which they are available.

Each of the Contests has its own set of rules and time window. The Cardboard Boat Race has a fee associated with it. Model Roller Coasters need to be completed before coming to the park. Mars Lander is completed using materials available at the park on Physics, Science and Math Days. Each of the contests has a file that can be opened to learn the rules and how to enter. Paper Tower will be built using materials provided at Great America on PSM Day. This is a new event for 2017 and all students are invited to participate.

On May 12, we are going to hold a trial run of a new event - Regatta @ Boomerang Lagoon. Students who attend that day will need to build a sailboat that meets the specifications and bring their swim suits to launch their boat.

None of these offerings is mandatory for students, and some have limited space and/or a need to sign up in advance. Please note specifications in the worksheets that accompany each.

Interactive Booths:

Worksheets

Buoyancy Challenge

Graph Matching


Graph Matching Clues


HTML

Word

pdf


Math Scavenger Hunt

Sample Check Sheet


Contests:

Model Roller Coasters


Cardboard Boat Race

Paper Tower


Mars Lander

Regatta @ Boomerang Lagoon - May 12 only


HTML

Updated 2/7/2017